The stud farm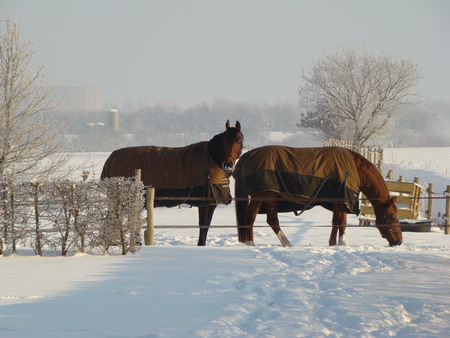 We started breeding horses in 2008…..we made a wish or dream we've had for at least 20 years come true.
Stoeterij Welfare has been set up for the breeding of KWPN (Royal Dutch Warmblood) foals with a dressage background. We consciously were looking for broodmares without the pedigree of certain stallions….and we did find them.
In June 2008 we got our first mare, Javelin M (sire Pretendent) and in August of the same year Uvera (sire Democraat) joined us. In addition to our Dutch Warmbloods we have a Trakehner mare Dandelion Hailey (sire Sevillano xx) in our stables since January 2011.
Breeding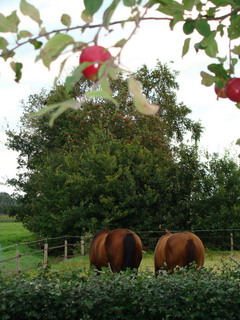 Our broodmares have old blood lines. In our eyes they form a solid base for our breeding farm. We consciously chose broodmares without the blood lines of Jazz, Ferro and Flemmingh. This doesn't mean we don't want to breed with these "hallmark stallions" or their offspring. In the contrary!
Since our mares don't have these bloodlines, we have a very broad selection. We can choose a "proved" stallion or take a chance and use an interesting young stallion. When choosing a stallion we principally look at the ability for the sports and his character. Our foals need to have the ability to perform well in the sports for anybody. Besides this the character of the foals is very important. Not only for ourselves, but we also want the prospective owners enjoy being and working with our horses.
The breeding and raising of horses, the inspection and training are all sides of the sport that are associated with each other. It is of the utmost importance you know your broodmare. What are her strong points and what are her weak points. Which stallion would enhance the strong points and improve the weaker areas. When choosing a stallion we not only take into account the confirmation of the broodmare, but we also look at her movements. We choose a stallion that fits the mare best both in confirmation and movement.
To be able to make the right choice we start out way in advance and we assess every choice carefully. When we visit the Stallion Show of 2011, we are already looking at the stallion choice for the stud season of 2012. You can never be too early! This way we can follow a stallion throughout the year. We can see how he performs in the sport and how his off-spring is judged. These are all important factors in making the final decision.
We try to breed 1 or 2 foals every year. We sell the colts. The fillies will stay with us and at the age of 2 she will get an X-ray examination. We will make a training plan for these horses. Mares that are genetically interesting and comply to our wishes of movement, confirmation and character will be readied for the EPTM or IBOP tests. This new generation will first be started in the sport and later we will use them for our own breeding program. The other horses will be readied for the sport and then they will be sold.
Our broodmares
Our broodmares come from a pedigree that produces KWPN and Trakehner Verband off-spring.

Javelin M is the senior of our broodmares. She comes from a famous bloodline: the famous Rania bloodline (mare pedigree 43 – breeding family 316), of mr. H.J. Pot from Wittelte. 3 approved stallions originate from the same pedigree: Oscar (sire Wolfgang), Kimberley (sire Cabochon) and Luron (sire Guidam).
Accomplishments:
At the horse show of 1996 she had
Exterior        72 points
Movement    74 points
Foals:
Hylesia MB (e. EH Kasparow)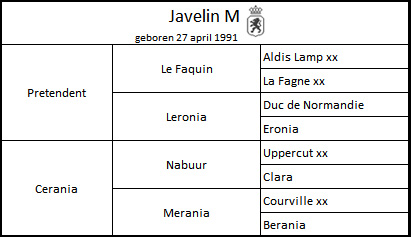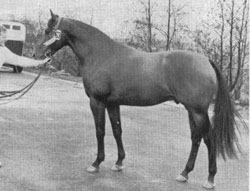 Javelin's sire is Pretendent (sire Le Faquin). He has been approved as a stallion because of his accomplishments in the sport and breeding. His off-spring scores high especially with dressage and their jumping performance is also above average. He also plays an important part in breeding. He produced mares that score very well at horse shows. He has 2 approved sons, Vanitas and Vincent. Both perform excellently in the sport. Pretendent died in 1992 from cardiac arrest.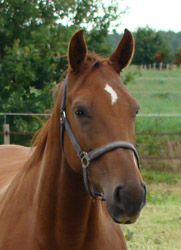 Uvera is our middle broodmare. Having Democraat as sire and Variant as grandsire you can best call her an all-rounder.
Foals:
Falanx MB (sire Advance)
Guilietta MB (sire Apache)
Expected in July 2012 (sire McJonnas)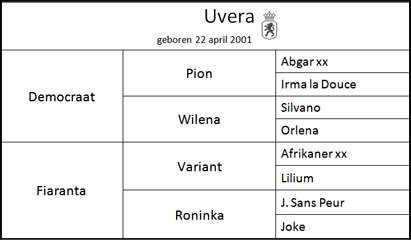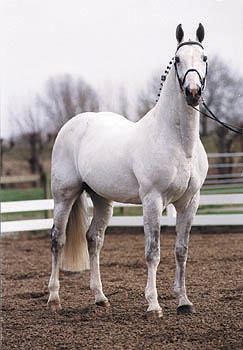 Uvera's sire is Democraat (sire Pion). He performed at Warendorf and he was successful. His off-spring performs exceptionally well, both in dressage and jumping. This places Democraat highly in both indices. With Anky van Grunsven he secured wins nationally and internationally. He also jumped 1.40 with Jos Lansink and later he scored many international wins with Jutta Winkler.
Democraat has the respectable age of 26 and he's available for stud at Van Uytert Hengstenstation.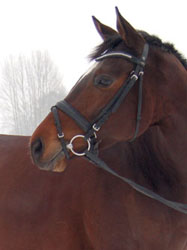 Dandelion Hailey (sire Sevillano) is the youngest of all. She is with us since January 2011. We are using her for breeding for the first time this year.
Performance:
At the horse show of 2008 she scored 53 points: Typ 8, Körp 7, Fun 7, S 8, T 8, G 7.5 and Ges. 7.5. With these scores she qualifies for (Verbands-) Premie. To get this, she needs to do a performance test for mares or she needs to have started as L2 + points. Hailey is L2 but she didn't score any points yet.
Dandelion is owned by Vivi Anne van Dijk and Tamara Kerssens.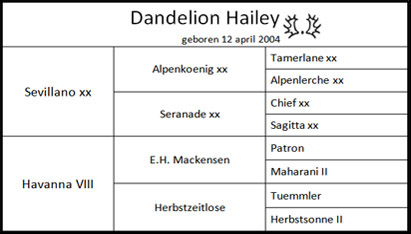 Haileys sire is Sevillano XX (sire Alpenkönig XX). Her dam Havanna VIII (sire E.H. Mackensen) comes from the pedigree of Herbstgold (t 14 o 2 – Gestüt Schmoel Panker).
Foals:
Expected May 2012 (sire EH Connery)
Stallions
The stallions we choose have to be compatible with our mares. When choosing a stallion we not only look at his sports abilities and character, but also his pedigree on both his sire's and dam's side are very important to us.
Advance is a nicely developed stallion with a lot of character. He has been approved as stud of the KWPN in the fall of 2008. His sire Utrillo van de Heffinck (Clinton x Heartbreaker) is very successful internationally. His dam Ueronette received 80 points for free jumping when she was entered in the stud-book.
Offspring inspection 2010: "Uniform collection of very satisfactorily developed foals with a lot of character. Their confirmation is an amply sufficient to good representation for a jumper. Their trots have a large stride with good bending of the joints. The canter is sufficiently to very satisfactorily large in stride and should be shown several times with more use of the body.
Apache became reserve champion of the dressage horses at the KWPN Stallion Selection 2008 in Den Bosch. He is a very trustworthy and intelligent stallion with a pleasant disposition. Apache is still very young and shows a lot of blood. He uses his hind legs extremely well. His dam Tolanda is an elite mare. On her dam's side there are a lot of champion horses and approved stallions.
Apache has been approved for KWPN, Oldenburg, Westfalen and SWB.
Offspring inspection 2009: a collection of uniform riding type, well developed foals that are adequately to nicely rectangular in shape. They have an appealing front when moving. The stride of the trot is large with nice bending of the joints. The hind leg could show a little more engagement. The foals easily change gaits to a canter and have a nice large stride. When moving the foals show a lot of balance, posture and can change gaits easily.
Apache is stabled at Trainingsstal Witte Scholtens te Schijndel. He is available for stud services at Ad Valk Dressage Horses or at Piet Kuypers. Check out their website at Hengstenhouderij Kuypers.
Connery participated in the Bundeschampionat (dressage) in 2000 and 2001. In 2003 he successfully completed his 30-day test. He was released at Class S level in dressage. In 2008 he received the highest designation a Trakehner stallion can receive: Elite Stallion. He received this honor because of his excellent service as a stud. At this time he has 10 approved sons, among which reserve champion Imperio (2005) and Editorial (2007). Connery has been approved for Trakehner Verband, Hannover, Oldenburg, DWB, Sweden, Westfalen, Rheinlander and since 2011 also for Polen.
Connery is stabled at Gestüt Hörum in Gilten (Germany).
Kasparow has been approved as stud for the Trakehner Verband in Januari 2000. As a young horse he was released in the German Young Horses Competition. This means no jumping with a rider till he was 4 years old. He did, however, do dressage. With dressage he was classified to participate in the highest possible achievement for young sports horses, the Bundesturnier. He became champion the 3 year old dressage horses. He is a stallion with extraordinary qualities. He has been released in several disciplines of the sport. With dressage he rode Prix St. George, he jumped S class in Germany and did eventing on CIC2 level. In 2009 he received the highest designation a Trakehner stallion can receive: Elite Stallion. He received this honor because of his excellent service as a stud and in the sport. Kasparow has been approved for Trakehner Verband, NRPS, Oldenburg, Westfalen, Rheinlander and DWB.
Kasparow is stabled at Arja van der Laarse in Zevenhuizen.
McJonnas was born in 2003. He is a rare warm blood Cremello stallion of tsjech warm blood ancestry. Cremello (his coloring) is the result of his double diluted genes. Cremello stallions are guaranteed for 100% to have palomino foals when mated with a chestnut mare. McJonnas is an athletic horse coming from a line of great sports horses. His pedigree takes a journey through history. Several bloodlines merge. The famous Golden Kinsky horses are seen in his pedigree.
McJonnas is very affectionate and he seems to pass this trait onto his foals. His offspring can be registered in several stud books, among which the KWPN (registrar B).
McJonnas is stabled at De Dalhoeve in Wamel.
Foals
Well in advance we decide which stallion we will use for the coming breeding season…and then we need to have patience. All foals that are born at our stables will have the letters MB behind their name, for Makkinje and Bakker.
Falanx MB (sire Advance) was born on February 22 2010 at 8pm. He's definitely a real colt, brazen, a show-off….a real macho. Falanx was invited to participate in the descendants' inspection of 2010. This illustrates to us how he is doing at the age of 5 months. The results are: he is 13 hh (1m32), he has a beautiful, striking head with a lot of character. He has a large stride in his walk, resembling a French Trotter's stride. The stride of his trot is sufficiently long, smooth and energetic. The stride of his canter is very long, with abundant push.
Guilietta MB (sire Apache) was born on February 17 2011 at 00.30 am. She's a beautiful filly, very refined, a beautifully marked head with a lot of character. We are anxious to see what she will look like all grown up!